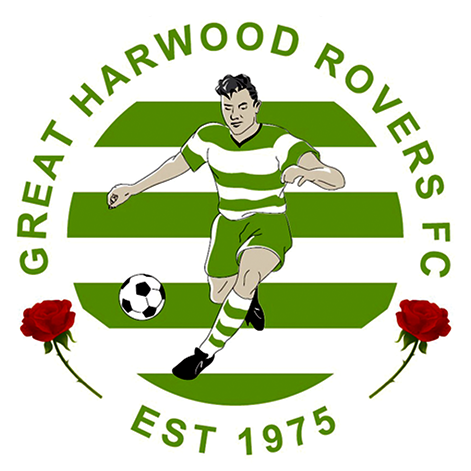 100 CLUB
To join the Great Harwood Rovers 100 Club, use the online application form here.
Aims and Governance:
The Great Harwood Rovers 100 Club is a Small Society Lottery, operated under the Gambling Act 2005. It is registered with Hyndburn Borough Council.
The Promoter is appointed by Great Harwood Rovers Football Club. The 100 Club is managed by the voluntary Fundraising and Social Sub-Committee.The proceeds of the lottery will be used to fund the activities of the Football club including ground maintenance and provision of kit and equipment.
A separate Great Harwood Rovers Club bank account has been set up to deal with all Fundraising and Social Committee activities including all subscriptions, prizes and other fees associated with the Great Harwood Rovers 100 Club.
The Great Harwood Rovers Fundraising and Social Committee reserves the right to alter the Rules of the 100 Club from time to time, as may be necessary, but at least one month's written notice must be provided to all members.
RULES:
Anyone over 16 years can become a member of the 100 Club and you are encouraged to get your family and friends to join. The 100 Club shall not be limited to 100 members. The more numbers issued; the bigger the prizes.
The subscription to the 100 Club for one number shall be £5 per month payable monthly, biannually or annually in advance dependent on the payment method chosen. This will provide members one number which will be placed in the draw each month. Members may have and are encouraged to have more than one number.
Subscriptions can be paid by Internet Banking, Standing Order, cheque or cash. Standing Order is encouraged for payment in order to keep the administration to a minimum. All monthly payments MUST be made on or before the 27th of each month.
Payments can be made as follows:
INTERNET BANKING: Payments MUST be made on or before the 27th of each month.  Bank account details for transfer will be provided when the application form has been submitted here.
STANDING ORDER: Bank Standing Orders should be arranged for the 27th of each month. It is each member's responsibility to complete and return the attached Standing Order Instruction form to their own bank.
CHEQUE or CASH: Cheque and cash payments will only be accepted for 6 or 12 month subscriptions. Cheques should be addressed to the Promoter or alternatively cheques and/or cash can be submitted to your Manager for forwarding to the Promoter. All cheque and cash payments must be received at least 7 days prior to the next draw to ensure inclusion in that draw.
Please make cheques payable to: Great Harwood Rovers Boys FC Number 2 Account
ALL FORMS OF PAYMENT MUST BE RECEIVED (AND CLEARED THROUGH THE BANKING SYSTEM) AND ALL SUBSCRIPTIONS UP TO DATE NO LATER THAN 2 DAYS PRIOR TO EACH DRAW. MEMBERS WILL NOT BE INCLUDED IN THE MONTHLY DRAW IF THE APPROPRIATE SUBSCRIPTION HAS NOT BEEN RECEIVED.
There will be one prize draw per month. Draws will take place at the end of each Great Harwood Rovers Monthly Committee Meeting (1st Monday of each month), unless notified otherwise.  The intended monthly prize money will not be less than 40% of the month's net payments. This will be apportioned as
1st Prize: 20%, 2nd Prize: 15%, 3rd Prize 5%
Prizes will be dependent on how many members have subscribed for that particular draw and the actual Prize limits will be announced prior to the draw taking place.
Winners will be notified either directly during the draw or by email or telephone. Payment of prize winnings will be made by bank transfer or cheque no later than 14 days after the draw. If a winner cannot be contacted the winnings will be placed into Great Harwood Rovers Funds after 6 months.
All members will be notified by email of the winning names and numbers. In addition the results will appear on the Great Harwood Rovers Football Club website and Facebook page.
All 100 Club members must fill in an Application Form (see attached) or online application form to confirm they agree to abide by the Club rules. Where a paper application form is used, this must be returned to the Promoter.
Members can cancel their entry to the lottery at any time by applying in writing/email to the Promoter. Refunds of subscriptions for draws that have taken place will not be refunded, however a refund of advance subscriptions will be allowed.
Unless otherwise advised a member will be deemed to have left the 100 Club if his/her subscription remains unpaid for a period of one month. At this point their number may be sold to another existing or offered to a new member.
The decision of the Great Harwood Rovers Fundraising and Social Committee shall be final and they reserve the right to amend or revoke these rules at their absolute discretion.